Dropship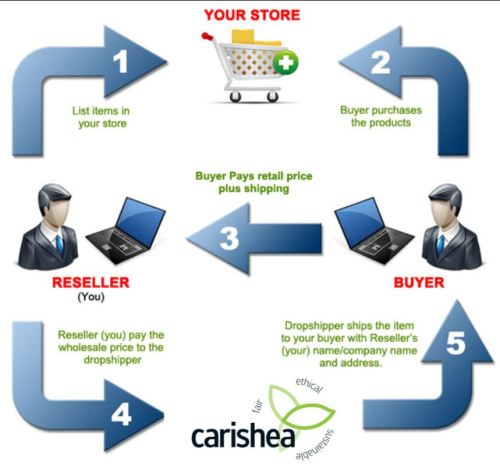 What is Dropshipping?
Dropshipping is a retail fulfilment method where a web store doesn't keep the products it sells in stock. Instead, when it sells a carishea product, it purchases the item from us and has it shipped directly to the customer. As a result, the merchant never sees or handles the product.
The biggest difference between Dropshipping and the standard retail model is that the selling merchant doesn't stock or own inventory. Instead, the merchant purchases inventory as needed from us to fulfil orders.
This model has a number of benefits
Less Capital Is Required – Probably the biggest advantage to Dropshipping is that it's possible to launch an ecommerce store without a large financial outlay in stock up front. Traditionally, retailers have had to tie up huge amounts of capital purchasing stock.
No Stock is Held - With the Dropshipping model, you don't have to purchase a product unless you have already made the sale and have been paid by the customer. Without major up-front inventory investments, it's possible to start a successful Dropshipping website business with very little money.
Easy to Get Started – Running an ecommerce business is much easier when you don't have to deal with physical products.
With Dropshipping, you don't have to worry about:
Managing or paying for a warehouse
Packing and shipping your orders
Tracking inventory for accounting reasons
Handling returns and inbound shipments
Continually ordering products and managing stock level
Low Overhead – Because you don't have to deal with purchasing inventory or managing a warehouse, your overhead expenses are quite low.
Keeps you Focussed – Dropshipping leaves you to focus on selling and promoting your web store as we take care of the delivery of carishea products.
Trade Right International (TRI) dropship scheme
There is a one-off payment of £25 registration fee.
Use the form below to register for our Dropship Service.
Once you've registered for the service, you'll be sent a discount code to order through the site.
You'll also be sent a link to access high resolution images and text suitable for use on your website.
How It Works
On your website you offer, promote and sell our products.
Your customers purchase and pay directly from your website.
You then purchase and pay for the item from www.carishea.com . At the time of paying insert your unique discount code.
Please note: each separate delivery address denotes a separate order from you.
We then pick, pack and dispatch the order to your customer.
All the paperwork your customer sees and receives with their order will have your logo and contact details – we remain anonymous.
To register complete and submit the form below
Pay the £25.00 Dropship Registration Fee